Top Tips for Keeping your Bathroom Clean and Safe
One of the most important advantages of a clean home is that it becomes a more inviting and serene environment to live in. Everyone feels comfortable and ready to unwind in a clean home.
Everyone relies on the bathroom to keep their bodies clean at home, so it is reasonable to assume that it should be the cleanest room in the house. The bathroom can rapidly become a breeding ground for bacteria, fungi, and undesirable odors due to water, steam, and increased filth.
People like to use Antibacterial Multipurpose Wipes in Dubai to clean the bathroom using at least once or two weeks to prevent mildew and other build-up depending on how often you wipe your shower down, sweep the floor, or disinfect molds. Toilets, sinks, and other high-frequency locations should therefore be cleaned every week. In an effort to lighten up the load, little may be done on a daily basis in order to ensure a cleaner place.
Importance of the Clean Bathroom
It only takes a few minutes a day to clean up your bathroom using the best bathroom cleaning products and keep yourself healthy if you remain on top of it. The health benefits of a clean bathroom should be enough to persuade you to spend a little more time each day cleaning up one of your home's busiest areas. You can purchase the Antibacterial Multipurpose Wipes in Dubai from Hygiene For All.
1. Prevent Bacterial Growth
Bacteria can build throughout the bathroom in a number of areas, making it critical to clean it on a regular basis so that it does not accumulate in places like the sink faucet or towels. Keeping the bathroom sterile and clean is a great way to reduce bacterial development, utilizing high-touch dissipators or wipes. Wipe the bathroom flusher, doorknobs, pulls, and ropes – everywhere your hand frequently contacts.
2. Mold Can Be Avoided.
If the proper temperature and humidity are available, the mold can grow in only 48 hours – and a warm, humid bathroom is the ideal hiding point for mold. Mold can also build on windowsills, thus cleaning all bathrooms on a regular basis is essential. Molds can be a concern when they start to grow, so keep the bathroom clean to avoid them.
3. Eliminate Smell
The toilet lid might retain droplets splashing about the floor when flushed, yet the bowl and lid remain all over it. If you do not clean these areas periodically, the odor can become rather strong – and unpleasant. People who use the toilet at their stand can also be of assistance, so if you have men in your house, you may need to clean more frequently. An air freshener may assist to mask the odor, but the underlying source should be addressed first.
4. Improved Mental Health
A clean bathroom is beneficial to more than just your physical wellbeing. It is much more soothing and delightful – even therapeutic – to spend time in a clean and tidy environment. According to studies, persons who keep their bathrooms clean are often healthier and more active than those who do not. You will also be less nervous about entertaining guests — they will be amazed by your pristine bathroom, and you will feel more confident showing off in your lovely living room.
How Does a Clean Bathroom Help to Reduce Illness Risks?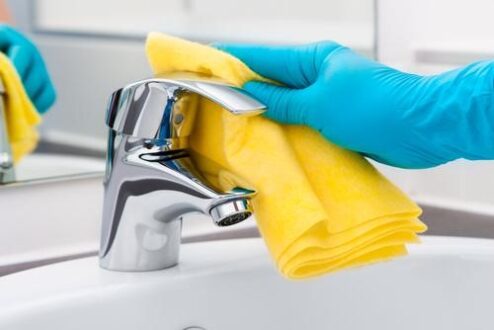 Cleaning and disinfecting frequently touched surfaces such as bathroom sinks, faucet handles, and toilet flushers on a regular basis help to reduce the chance of bacteria and viruses spreading. Commercially available cleaners remove grime, dust, filth, and microorganisms, while disinfectants like bleach or sanitizing wipes kill bacteria and viruses including the common cold, flu, and COVID-19.
If a bathroom is not kept clean, gastrointestinal illnesses including E. coli, norovirus, and salmonella are rapidly spreading. While the symptoms of these illnesses usually only last a few days, infections can spread for up to two weeks after the vomiting and diarrhea stopped, emphasizing the importance of keeping the bathroom clean with bathroom cleaning products. Clean all surfaces and fittings, as well as the toilet bowl and underneath the rim of the toilet using the best bathroom cleaning products. Bathroom surfaces and toilets should be cleaned at least once a week on a regular basis, and more frequently if there are more family members.
Tips To Clean A Bathroom
Setting up a specific day and time to clean the bathroom is the greatest approach. Toiletries should be kept separate from cleansers and chemicals. We will show you how to clean the bathroom's most important areas fast and effectively.
1. Everything should be wiped down.
Use the disinfectant spray or wipes to eliminate germs on encounter, on the faucets, the toiletries, the handles on the cupboard, the doorknobs, the grips of the shower door, and wherever you touch including the toilet brush handle and plunger handle, which are often overlooked.
2. The Shower
Spray the bathroom cleaning products on the surfaces and let them sit for a couple of minutes. After that, wipe down all of the surfaces. Remove the bathtub stopper and hair catcher and clean them well. It is not the most pleasurable task, but it will keep the drain from clogging.
3. The Bathtub
Determine whether the tub is porcelain, enamel, acrylic, or plastic before you begin scrubbing. Although porcelain tubs are durable, severe chemicals can cause enamel, acrylic, and plastic tubs to fade or scrape. When cleaning enamel and acrylic tubs, avoid using bleach or vinegar. To rule out potential stains or damage, try a small area first.
4. The Sinks
The sink is subjected to a daily barrage of dirt and grime, from toothpaste stains to hair products. Cleaning it on a regular basis will keep it sparkling in your sight.
To remove mild soil and film, use household cleaning products. Abrasive or soft-scrub cleaners, which are easier to rinse off ceramic surfaces, can be used to remove more hardened layers. Toothpaste dribbles can be removed and surfaces sanitized with bleach-based cleaners. Make your bathroom cleaners to keep things green. They will spruce up your bathroom without the use of harsh chemicals or a hefty price tag.
5. Do not forget to clean the grout
Tile grout can become filthy extremely rapidly. Using an old toothbrush and some diluted bleach is an effective technique to eliminate any discoloration. Simply wipe the solution gently on the stained areas once it's been mixed.
Consider large-format tiles or big slabs for the walls to lower the grout if you are considering constructing a new bathroom in the future.
6. Keep your toilet looking tidy
It is the job nobody wants to do, but keeping your toilet squeaky-clean is the key to getting rid of dangerous bacteria.
In addition to keeping the inside of the toilet bowl clean and germ-free, wipe off the outside with the Harpic Toilet Cleaner. The toilet handles and flush buttons should not be overlooked.
7. It is necessary to clean the ceilings.
You can do too much to clean the fittings and tile of the bathroom, but many times you avoid cleaning the ceilings of the bathroom. You should expect to observe mildew, stains, and grime build-up on the ceiling. For rapid cleaning, add an equal quantity of water and white vinegar to the mop bucket. Add gauze or other glassware. Take a sponge sprinkler pan, remove the sponge and wipe one section of the roof at a time.
8. The Little Things
Using glass cleaner and a gentle microfiber cloth or paper towel, polish a toothpaste-strained mirror. Sweep the floor with a cleaner and a brush to scrub the grout. Do not miss checks on all your products, from grout cleaners to mildew removers, in order to make sure the surfaces on which you work are secure.
9. Clean the Pipes
Hair, food, and filth quickly accumulate in drain pipes. Boil the kettle once a week, dump half of it down the drain, wait a few minutes, and then add the rest. If a blockage occurs, use a special sink unblocker to remove it.
10. Mop the Floor
Clean the bathroom floor by dipping your mop into the cleaning solution, squeezing out the excess water, and then wiping it down. Replace the trashcan and the freshly cleaned rugs once they have dried.
The bathroom cleaning products can assist you in cleaning the bathroom quickly and efficiently. To do it efficiently, follow these tips:
Use a hand-held vacuum in the bathroom to clean up hair and other debris from the floor on a daily basis.
To avoid clogging, install a hair catcher in the drain. When water does not drain properly, an unsightly ring forms around the shower or bathtub.
To avoid water streaks on the shower walls, squeegee them after each usage.
To avoid clutter, store smaller objects in bins and baskets.
11. Increase the Storage Capacity
Place storage baskets or boxes in the corner of the bathroom to keep it clutter-free. They are not only elegant, but they are also useful for keeping cleaning supplies, towels, and other accessories. Store the basic needs in a bathroom case if you do not have enough space for a box or a basket—but make sure that it does not become dumping grounds for additional or undesired products. It is a simple way to keep your bathroom clean and organized.
According to experts, you can maintain the bathroom clean and tidy in just three minutes a day — all you have to do is make sure it does not get dirty! You may need to undertake a deep clean first, but if you spend less than five minutes a day wiping down your bathroom surfaces and accessories, you can get the health benefits of a clean bathroom without fearing the task of cleaning it from top to bottom on a regular basis.
Cleaning the bathroom with bathroom cleaning products can be an awkward endeavor, but you should keep it a priority and it will be of great benefit to you.
Tips to Keep Your Bathroom Safe
You have seen a lot of beautiful bathrooms with various styles. However, in addition to aesthetics, other more important factors such as function and safety must be considered. You must ensure that the bathroom is safe from accidents and harm because it is used every day in the house.
Consider safety so that you can add that to the design if you are just beginning to create a bathroom. However, architects and interior designers are aware of this and can even provide information on the safety of the bathroom. You can try seeing if there are possible reasons for accidents when you already have a bathroom. This is particularly crucial when children and the elderly are in the house. Read the following suggestions to make your bathroom safe:
1. Mats should be slip-resistant.
The most common mishaps in the bathroom are slips and falls. In order for this to be avoided, install a few rubber-resistant mats on the floor. These mats are specifically developed for bathroom use. A cup-backed shower mat would be ideal to avoid slipping in the shower.
2. Do not let the water pool on the floor.
A dry floor is a sign of a clean and safe bathroom. Allow no water to collect on the floor. Make sure to clean it up after each usage. This could result in slips and falls, or even electrocution.
3. Keep all electrical gadgets out of the water.
Water is a good conductor of electricity. So keep your curling iron, electric razor, and hairdryer away from the water to avoid electrocution. To protect these items, you can use some waterproof materials or simply place them in a dry location. Make a floating shelf or cabinet for these items, and make sure it is out of the water.
4. Add grip bars to the bathroom.
Placing grab bars in or near the bathtub, toilet, and shower area could save lives. When you stumble or lose your footing, you will have something to cling to. If you have elders or older persons in the house, this is much more crucial.
5. Stay out of reach with medicines.
The majority of bathrooms are equipped with medical cabinets. Make sure it is out of children's reach because kids are often quite interested and might take these pills without you knowing it. Keep them out of sight so that children are not attracted.
6. Maintain chemicals and materials for cleaning well.
If chemicals are placed everywhere, it would be dangerous. To minimize accidents, utilize the bathroom cleaning cabinet for dangerous chemicals. In addition, store extra cleaning materials for bathrooms. Not only is this safe, but it will also keep the bathroom clean and uncompromising.
7. Have a well-lighted bathroom.
When it is dark, you can easily slip and fall. So make sure that your bathroom is completely lit when you are in the bathroom.
8. Set the temperature of the hot water to 120 degrees Fahrenheit.
Make sure the hot water is set to 120 degrees Fahrenheit because if someone opens it and it is too hot, their skin can be burned. Nobody wants to be burned while showering. So, when you have used it, do not forget to lower it. This is especially critical when there are children present.
9. Install ground-fault circuit interrupters (GFCIs).
When there is a short, a ground-fault electrical outlet can prevent electrocution since the circuit will trip. Make sure to ask an electrician about this, and do not try to install it yourself if you do not know what you are doing because it could lead to more problems.
10. Ensure that all are securely attached.
The bathroom has to fit in well with towel racks, a toilet paper holder, vanity, mirror, medicine cabinet, pick-up bars, and all other things. If someone keeps it, they should not jiggle. If they are not correctly fastened, this can cause risk.
It is always preferable to be safe rather than be sorry. So, if you have not given any thought to the safety of your bathroom, you should do so now to ensure that no one is injured in the future. Check to see if the above recommendations were followed in the bathroom, especially if it is a children's bathroom. Keep in mind that safety takes precedence.
It is critical to keep a bathroom clean in order to live a healthy life. To keep a squeaky-clean bathroom, it is crucial to use effective bathroom cleaning products. In reality, numerous products are available to clean various regions of the bathroom. Toilet cleaners, bathroom floor cleaners, tile cleaners, bathroom fittings cleaners, and so on are all available. Apart from the cleansers, you will also need the proper brushes and tools to keep this area of your house clean.
Bathroom cleaning products, as well as all other household cleaning products, may be purchased online and delivered to your home. These products are sold online by a variety of companies among which Hygiene For All is the best. These products come in a variety of forms, including spray, liquid, foam, crystal, wipe, rim block, gel, and powder. These Bathroom cleaning products are also available in various volumes to ensure that you get the proper amount for your needs at home. You can locate the best-selling products, customer reviews, and ratings on online retailers to help you make an informed decision.
Hygiene For All offers high-quality bathroom cleaning products and Antibacterial Multipurpose Wipes in Dubai and is open to contract manufacturing and private label partnerships. Toilet fresheners and household cleaning products can be modified in size, packaging, and made to meet the needs of our partners.
We are one of UAE's most preferred vendors due to our strict quality control, strategic location, affordable pricing, and regular timely delivery.